About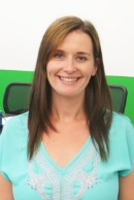 DEZEREE CHRISTMAN
SENIOR DIRECTOR PLATFORM STRATEGY & CLIENT SUCCESS
Phone:
775-848-5986
E-mail:
Dezeree's career has been centered in data-driven digital media. She has worked on both the agency and publisher side and has a unique perspective on leveraging data and content. At SportsDesk Media, Dezeree leads the digital media buying strategy to ensure the highest successes for SportsDesk clients.
Dezeree has been specializing in programmatic media for the past five years and has seen it evolve from remnant media buying to highly targeted, 1:1 marketing that is reconstructing the way we think about reaching consumers in not only digital, but traditional as well.
Dezeree grew up in the Reno-Tahoe area of Nevada. She's passionate about outdoor recreation, writing, cooking, and brewing the occasional stout. She lives in Dallas with her husband, son, and four fur babies.