About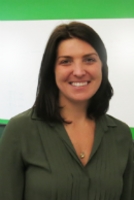 JOANNA SABATO
SENIOR DIRECTOR BUSINESS DEVELOPMENT
Phone:
(216) 650-7174
E-mail:
Joanna is a veteran media executive who joined SportsDesk Media in September of 2015. She has a unique combination of digital business development, NFL team experience, and broadcast media sales. She maintains an extensive network of trusted senior level media contacts and has developed measurable revenue growth for The Cleveland Browns, Hearst Corporation and Cox Media Group.
Prior to joining SDM, Sabato was a Senior Account Executive at Cox Media Group; an integrated broadcasting, publishing, and digital media company. While at CMG for over six years, she sold national television and digital media for all 42 Tribune owned and operated television stations reaching more than 50 million households including the CBS and FOX affiliate in Indianapolis; the broadcast partner of the Indianapolis Colts.
Sabato also spent time working for The Cleveland Browns as a Manger of Corporate Partnership Sales. Here, she established and maintained relationships with key corporate partners selling multi-platform sponsorships for partners such as FanDuel and CDW-Corporation. Sabato also developed the "Browns Edge Partnership" which established a new paradigm for knowledge transfer between Sabato's alma-mater, The University of Findlay, and The Cleveland Browns. The Browns Edge Partnership offers opportunities for UF students to be mentored by professionals in the Browns organization, a direct path to internships with The Browns, and scholarship opportunities. This program ensures that students who want to pursue a career in the sports industry have the right experiences in and outside of the classroom.
As a native of Simsbury, Connecticut, Sabato graduated from the University of Findlay with a degree in Marketing. She also competed on Findlay's 2005, 2006 and 2007 NCAA Collegiate Equestrian team finishing fourth in the country during her senior year.