About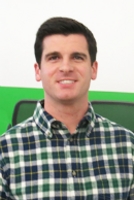 BROOKS BYERS
CLIENT SUCCESS MANAGER
Phone:
469-899-9773
Cell Phone:
972-746-6711
E-mail:
As a Client Success Manager, Brooks Byers partners with SportsDesk Media's clients to grow their businesses. Brooks works closely with the analytics team to offer clients an even richer understanding of their fans and to develop innovative ways to connect with key audiences online. He then collaborates with the tech team to execute and optimize media campaign performance based on these insights.
Brooks graduated from the Sports Sponsorship & Sales program at Baylor University, where he was a Business Fellow and Carr P. Collins Scholar. He worked with Baylor's Athletic Marketing department, and wrote his thesis on the future of digital media buying based on consumer behavior.
For the past five years, Brooks has served at-risk and special needs children and started several initiatives to support Susan G. Komen's efforts in Dallas and Waco.