About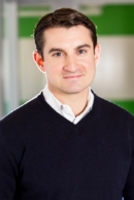 JOSH KRITZLER
CO-FOUNDER
SENIOR ADVISOR
Phone:
312-948-0255
Cell Phone:
C: 773-791-9244
E-mail:
As both an entrepreneur and a sponsorship executive, Josh Kritzler's business pursuits have taken him to the Green Monster, the Waca and the pits of Las Vegas Motor Speedway.
In 2007, he co-founded Property Consulting Group (PCG), a sponsorship and consulting company based out of Chicago whose diverse portfolio of sports and entertainment clients, among others, include Cricket Australia, O'Hare International Airport, the Allstate Arena and the San Diego Padres. It was withink PCG that SportsDesk media was formed.
Prior to launching SportsDesk and PCG, he was a founder of inStadium, a Chicago-based alternative sports media company. Leading a national team of sponsorship executives, Josh secured media rights to more than 25 MLB and NFL stadiums; including Fenway Park, Yankee Stadium, Dodger Stadium and the RCA Dome.
Kritzler has over a decade of cross platform sponsorship sales and consulting experience that has included naming rights, broadcast, onsite activation, signage, sampling, retail activations, youth and education programs, title rights and official status, website and print components, driver and team sponsorships, as well as exclusive content and digital rights deals. Krtizler has worked with many of the world's most recognizable brands including Pepsi, Lowe's, Panasonic, EMC, MB Financial, Yahoo!, BlueCross BlueShield, Comcast, Lexus, Coca-Cola, Ford, Waste Management, The U.S. Army and countless others. Most recently, Kritzler completed two headline making naming rights deals including MB Financial Park and The Akoo Theatre in the Chicagoland area.
Kritzler has served as the Chapter Manager for the Los Angeles Chapter of the National Sports Marketing Network and currently sits on the Editorial Board of The Migala Report. Josh has also traveled extensively to Australia to work with Cricket Australia, Queensland Cricket and the Australian Football League. Josh earned his B.A. in Finance from Lehigh University in Bethlehem, PA where he played four years of Divsion I tennis. Josh currently resides in Chicago, IL with his wife Natalie, his sons Miles & Hudson and his daughter Lila.