About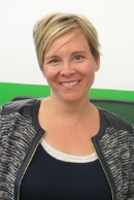 JENNA KAMPFSCHULTE
VP OPERATIONS
CLIENT SUCCESS
Phone:
214-238-0911
Cell Phone:
214-460-3839
E-mail:
Jenna Kampfschulte works closely with Eric to bring a fan-centric perspective to the digital strategies and campaigns. As the VP Operations & Client Success for SportsDesk, she does anything from client management to strategic story development to replenishing the snack drawers.
Prior to SportsDesk, Jenna accumulated 17 years on the marketing agency side - partnering with brands to build programs that engage consumers and drive growth for clients. She spent 9 1⁄2 years at The Marketing Arm - a premiere sports and entertainment agency - and was Eric's agency partner on AT&T. Her focus was on activating the properties in a meaningful and innovative way. Additionally, she led consumer and shopper programming for major Frito Lay brands including: Doritos, Cheetos, Lay's and Tostitos. Prior to TMA, Jenna worked at top ranked agencies Arnold Worldwide and Alloy Marketing & Promotions in Boston, MA.
A native Texan, she graduated from Baylor University with a Biology degree and then earned a Masters in Education from the University of Texas. Passionate about how things work, she loves digging into the consumer (aka "fan") and understanding how they think, live, buy and share. This insight drives authentic ideas and targeted strategies that produce results. She lives in Dallas, is married with 3 young children and couple of cats.